Mission & History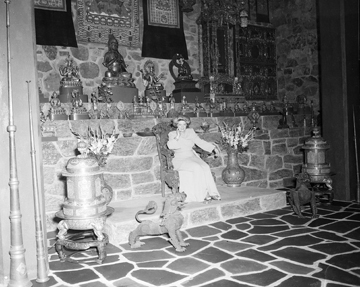 a short history of the museum's founding
Mission and Vision
The Jacques Marchais Museum of Tibetan Art's mission is to present the art, culture and history of Tibet to a world audience in order to educate and inspire appreciation of Himalayan cultures and to foster better global understanding.
The founder, Jacques Marchais (1887-1948) intended the Jacques Marchais Museum of Tibetan Art, established in 1945, to serve as a bridge between Tibetan art and culture and the world.
The Jacques Marchais Museum of Tibetan Art preserves its unique collection of rare and sacred artifacts and provides careful stewardship of its historic buildings and gardens. In addition to presenting Jacques Marchais' history, it is the intention of the museum to give visitors an understanding of Tibet and the Himalayan region. This "Jewel on a Hillside" replicates the monasteries of Tibet while it contains the unique artifacts that reflect the art, history, culture, and religious articles that have been destroyed in their homeland. This singular place in the USA preserves site and artifacts in memory of the founder and as a collection held in a contextual setting.
Jacques Marchais, (1887-1948)
Jacques Marchais Coblentz was born in Cincinnati, Ohio in 1887. According to Marchais, her father John Coblentz chose the male name, 'Jacques Marchais' – a family name of importance to him before her birth, and did not change it to the feminine form of Jacqueline after she was born. Her father died when she was a small child. Jacques Marchais was a precocious child and her mother, Margaret Norman Coblentz, put her on the stage as a child elocutionist, as a way to support the family. Her acting career took her through the Midwest and then to Boston where she was briefly married to Brookings Montgomery and had three children. The marriage was short-lived and the children went to live with their paternal grandparents. With no means of support, Jacques Marchais moved to New York City in 1916 to resume her acting career. While in New York, she surrounded herself with a circle of friends that shared a common interest in art, spirituality and Buddhism.
In 1920, Jacques Marchais married Harry Klauber (1885-1948), a Brooklyn-born entrepreneur in the chemical business. Jacques and Harry moved to Staten Island in 1921, settled on Lighthouse Hill, and she began to collect Tibetan art. She became self-educated on Tibet, at a time when only a few major museums were beginning to collect Asian art. In 1938, she established an art gallery in Manhattan which specialized in the art of India and Tibet. Marchais would often keep the best pieces for herself and sell other objects as a means to continuously build her collection. She was committed to sharing her knowledge of Tibet with the world.
Shangri-La on Staten Island
Inspired by a photograph of the Potola at Lhasa, the historic seat of the Dalai Lamas, Jacques Marchais designed a complex of buildings that resembled a small Himalayan monastery. The site included a library for her collection of books about Tibet, two small meditation cells, and what she described as a "chanting hall" to house her collection of Tibetan art. The library and museum buildings feature characteristic details of Himalayan architecture including a flat roof, capped with a four-sided pagoda, trapezoidal-shaped windows and doors with cross-cut wood posts and slate caps. The natural fieldstone buildings were constructed by Joseph Primiano, a local, Italian, stone mason.
The Museum is surrounded by terraced gardens with a gold fish and lotus pond. Jacques Marchais called her landscape design the 'Samadhi Garden.' Samadhi is a Sanskrit word meaning a deep level of concentrated meditation. The buildings and the landscape design created an environment where the art could be viewed in a contextual setting. When the Museum officially opened on October 5, 1947, the event was featured in LIFE magazine.