Overview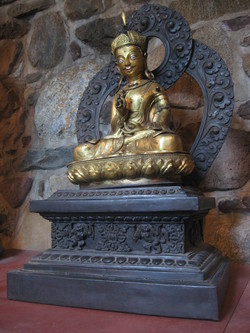 Padmasambhava
Jacques Marchais was one of the earliest collectors of Tibetan art in the United States.
Jacques Marchais wrote in her journals that her first exposure to anything Tibetan was a collection of bronze figurines passed down in her family from her great grandfather, John Joseph Norman, a merchant from Philadelphia who was active in the tea trade. As a young girl, she played with the figurines as if they were toys. Upon the death of her mother in 1927, she rediscovered the figurines among her mother's belongings and this propelled her to delve deeper into their meaning. This led her to "deep research and constant study" in "Tibetan art – its county—its people and its religion."
In 1938, she established an art gallery in Manhattan which specialized in the art of India and Tibet. Although she never traveled to Tibet, she amassed one of the earliest collections of Tibetan art in the United States. She acquired items through auctions and estate sales. Marchais would often keep the best pieces for herself and sell other objects in the gallery as a means to continuously build her collection. She was committed to sharing her knowledge of Tibet with the world.
In a letter to Senator Edward E. Denison of Mairon, IL (June 2, 1939) she wrote, Being a student of Oriental philosophy and acquainted with Eastern religions- I soon found that I was acting more or less as a magnet in drawing East Indian and Tibetan deities and ritual objects to me.
In her lifetime, Jacques Marchais amassed a collection of over one thousand objects. The collection includes sculpture, ritual objects, musical instruments, thangkas or scroll paintings and furniture. The objects are primarily from Tibet, Nepal, northern China, and Mongolia, and a few items are from Southeast Asia.